What are the analogues of refrigerant R22? How different are their characteristics? How to replace r22 so as not to redo the system? In this publication, we will present the list of r22 replacements and best analogues of R-22 refrigerant. Let's talk about their features and application, we will compare the properties of refrigerants.
R-22 ban
In 1987, a protocol was signed in Montreal to protect the Earth's ozone layer from destruction. It provides for a reduction in the production and use of ozone-depleting substances and technologies. These include refrigerant-22 (R22, difluorochloromethane).
Action Program of the Montreal Protocol in Developing Countries:
1987 – The Montreal Protocol is adopted;
2015 – Reduction in R22 supplies by 10%;
2020 – Reduction in R22 supplies by 35%;
2025 – Reduction in R22 supplies by 37.5%;
2030 – Complete ban on R22.
The manufacturers of climate equipment were the first to react. The production of air conditioners and refrigeration equipment on ozone-friendly refrigerants began: r404a, r407c, r410a, etc. They were followed by freon manufacturers.
Replacing R22 – not always an analogue?
Refrigerant manufacturers have gone two ways. Some develop new refrigerants, for which you need to create new equipment or upgrade the old one. These gases cannot be called complete substitutes for R22. Rather, they came to replace him. The latter are developing replacements for obsolete refrigerants.
There are full-fledged analogues of R22 freon. They have zero ozone depletion potential. They are azeotropic mixtures with the number of components from 2 to 6. According to their characteristics, they are as close as possible to HCFC-22. Here are the most effective and convenient replacements for R-22:
R417a – 46.6 % R125, 50% R134a, 3.4% R600;
R417 b – 79% R125, 18.3% R134a, 2.7% R600;
R421a – 58% R125 , 42% R134a;
R422b – 55% R125, 42% R134a, 3% R600a;
R422d – 65.1% R125, 31.5% R134a, 3.4% R600a;
R424a – 50.5% R125, 47% R134a, 1% R600, 0.9% R600a, 0.6% R601a.
R427a – 15% R32, 25% R125, 50% R134a, 10% R143a;
R434a – 63.2% R125, 16% R134a, 18% R143a, 2.8% R600a;
R438a – 8.5% R32, 45% R125, 44.2% R134a, 1.7% R600a, 0.6% R601a;
R453a – 20% R32, 20% R125, 53.8% R134a, 5% R227ea, 0.6% R600, 0.6% R601a.

---
Important
All listed refrigerants are compatible with mineral ( MO), alkylbenzene ( AB) and synthetic polyol ester ( POE) oils. They are not designed to work with polyalkyl glycol (PAG). They show the best cooling capacity and COP when working with polyol ether oil.
---
R-417a and R-417b
Refrigerants R417a and R417b are used to replace HCFC-22 in air conditioners and medium temperature refrigeration systems. They have a lower discharge temperature, which increases the life of the compressor.
In terms of cooling capacity, freons r417a and r417b are similar to r22. However, after replacement, some systems may suffer performance degradation. Freons are compatible with all types of oils (mineral, alkylbenzene, synthetic).
R-421a
The advantage of this R22 freon replacement is that the refrigerant is two-component. Provides good oil return when added with a special additive. When replacing R-22 with R-421a, an oil change is required only if the line length is more than 6 meters. Compatible with all types of refrigeration oils.
Refrigerant Guys has tested R421a as an alternative to R22. They did not reveal any changes in the operation of the compressor. In their subjective opinion, R421a is the best alternative to the banned R22.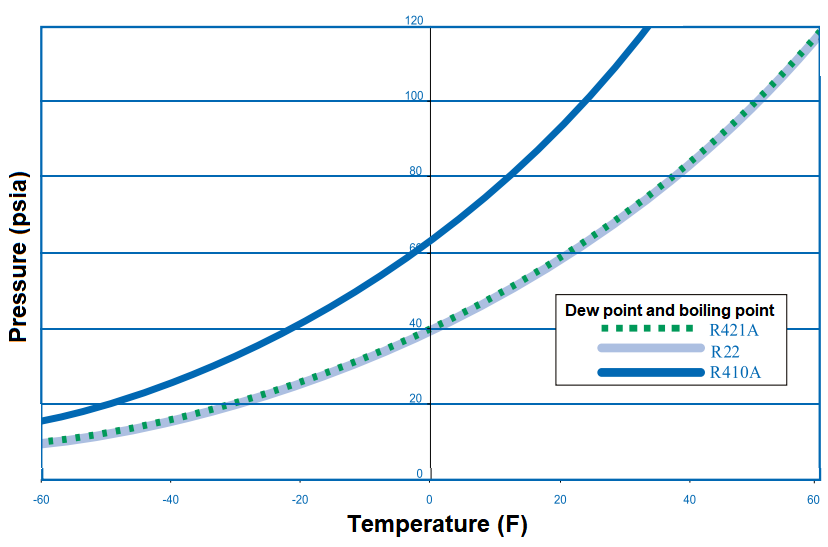 R-422b and R-422d
HFC mixtures R-422b and R-422d are used to completely replace R-22 refrigerant. Cannot be used for refueling. Due to their low carbon content they provide good return of mineral and alkylbenzene oils
R-422b and R-422d refrigerants are used in:
Air conditioning systems;
Low and medium temperature direct expansion refrigeration units;
Commercial air conditioning systems;
Stationary direct expansion air conditioners;
Chillers of direct expansion.
R-424a
The R-424a refrigerant is a full-fledged substitute for R22 freon. According to the ASHRAE classification, it has class A1 (operates at a temperature of +15…+32 °C and a relative humidity of 20…80%). Compatible with mineral (MO), alkylbenzene (AB) and polyol ester (POE) oils. Mainly used to replace R-22 in air conditioners.
Refrigerant Solutions Ltd has tested r-424a. They showed that its temperature and discharge pressure are lower than those of the r-22. It provides a good return of any type of oil. The COP of the refrigerant is higher than that of r-22.
R-427a
R427a refrigerant, according to Arkema, is the best alternative to the outdated R22. They have similar characteristics and working pressure. It has been designed for retrofit with minimal upgrades (filter drier replacement).
Freon R-427a is compatible with all types of compressor oils. When used with synthetic, admixture of up to 15% mineral or alkylbenzene is acceptable. Accordingly, it is not necessary to purge the system with nitrogen. R427a is used in:
Air conditioners;
Heat pumps;
Low-, medium-, high-temperature refrigeration units.
R-434a
Freon R434a is an excellent option for manufacturers of climate equipment. It is also used as a substitute for R-22 refrigerant in air conditioners and refrigeration equipment. Excellent performance over a wide range of temperatures. It has a safety class A1 (non-flammable, low toxicity).
According to the characteristics of R434a, it corresponds to the refrigerant R22. It has a similar COP, compression ratio and discharge pressure. Low discharge temperature reduces the risk of oil degradation. Its disadvantage is that the refrigerant cannot be used in capillary tube technology.
R-438a
The R438a was developed by DuPont as an alternative to R22 refrigerant. At the moment, he has the best analogues. Manufacturers claim that it can be topped up in small quantities. With a retrofit from the 22nd to the 427th refrigerant, only the replacement of seals is needed.
R438a is used to replace R22 in:
Chillers of direct expansion;
household air conditioners;
Commercial air conditioners;
Medium and low temperature refrigeration systems.
R-453a
At the time of this writing, R453a refrigerant is the best replacement for R-22. It has the lowest global warming potential (GWP = 1765) and the highest COP (4.27). The refrigerant has proven itself well at operating temperatures of R22 freon. In terms of cooling capacity, it is inferior to it by 2.9%.
Comparison of COP or R22 replacements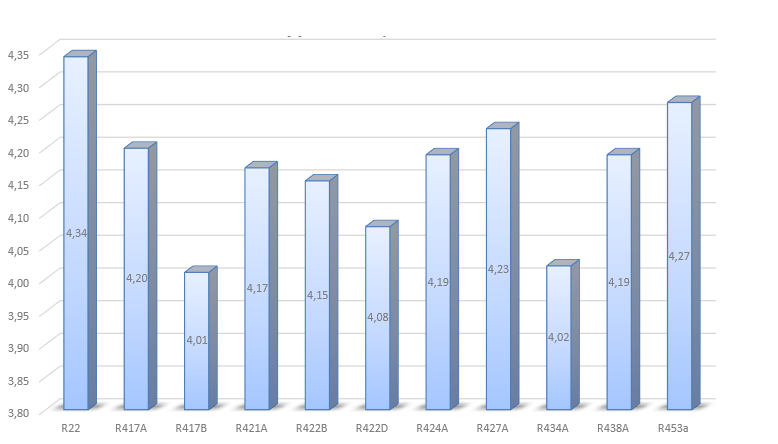 R453a is compatible with all types of compressor oils: mineral, alkylbenzene, polyolefins. The refrigerant is non-flammable and low-toxic, has an A1 safety class according to ASHRAE. It is used in air conditioning systems, chillers, low and medium temperature refrigeration units.
In this article, we examined all modern analogues and replacements for R-22 refrigerant. We hope it was helpful to you. You can leave your opinion and questions in the comments. Don't forget to share this post about R-22 refrigerant replacement with your friends and colleagues!
Хотите получить помощь мастера, специалиста в этой сфере? Переходите на портал поиска мастеров Профи. Это полностью бесплатный сервис, на котором вы найдете профессионала, который решит вашу проблему. Вы не платите за размещение объявления, просмотры, выбор подрядчика.

Если вы сами мастер своего дела, то зарегистрируйтесь на Профи и получайте поток клиентов. Ваша прибыль в одном клике!